During this assignment I have looked at and researched a number of artist's work.
I have particularly sought out artists who have a loose approach and who produce landscapes of various  styles.  I have been especially interested in mark making and how different styles can bring a subject to life as well as how abstraction can be simultaneously introduced.
I looked at Jeanette Barnes as part of the reflection on feedback from assignment 3.
I have also looked at Henry Moore.  Also at how he manages to combine abstraction, whilst retaining both a sense of the subject and interesting marks.
I have been particularly struck by the style of Dennis Creffield, who went to Bomberg's classes at the Borough as a teenager and was profoundly effected by the master's approach. He recalled that 'structure' was a key term for Bomberg. Another was 'the spirit in the mass', that is, the animating, inner being of any thing as opposed to simply its physical mass. 
In 1987 Creffield was commissioned to 
draw all the medieval cathedrals of 
England. 
This work shows that the methods
of the 
Borough Group survived for many decades.
 The emphasis on structure as defined by bold charcoal drawing was well-suited to the vertical forms of Gothic architecture.
David Bomberg (1890-1957) was the most audacious painter of his generation at the Slade. His treatment of the human figure, in terms of angular, clear-cut forms charged with enormous energy, reveals his determination to bring about a drastic renewal in British painting.
With the advent of World War I, Bomberg enlisted in the Royal Engineers, and his harrowing experiences at the Front brought about a profound transformation in his outlook.  Bomberg explored a radically different path during the 1920s. His disillusion with the destructive power of the machine at war led to a few years spent experimenting with ways of making his stark pre-war style more rounded and organic.
The way in which Bomberg reduces the human figure to a series of geometric shapes may reflect his fascination with the machine age, which he shared with the Futurists and Vorticists. This painting could also represent the human form, stripped to its essential core.The scene is based on steam baths near Bomberg's home in east London, which were used by the local Jewish population and which also had religious associations. They were, perhaps, a place for both physical and spiritual cleansing.
Throughout the 1930s Bomberg's art became broader and more impassioned as he sought to convey the essence of his response to landscapes in Scotland and Spain and during World War II his outstanding series of Bomb Store paintings did not lead to further commissions from the War Artists Committee, despite his repeated requests. His last years were darkened by the realization that his art remained overlooked and even belittled in Britain. His final landscapes and figure paintings include some of his most powerful works.
This shows the dome of St Paul's Cathedral
 in London, seen from the west with the River Thames on the right. Bomberg made many drawings of St Paul's during the Second World War, when it survived the Blitz and became a symbol of Britain's resilience. He made further drawings shortly after the war for a 'panorama of London' that was never realised. 
The definition of form by the use of strong structural  charcoal lines is typical. Equally characteristic is the contrast between these vigorous lines and the soft smoky shading, for example in the sky.  This is an image I wanted to take forward into my approach to assignment 5.
In terms of examples of depictions of  industrial architecture I was especially taken by this water colour by Gordon Mitchell Forsyth, (1879-1952) The Hoist Shelton Bar.  Although this is less abstracted is much more precise in its depiction of its subject, the "accidental" marks created by the watercolour create a vivid sense of atmosphere.
Leon Kossoff (born 1926) has established himself among the most significant contemporary chroniclers of London's people and architecture. The intimacy of drawing as an art form dovetails with Kossoff's intense and sustained interest in the London landscape. Kossoff renders the city's plazas, buildings, demolition zones, and construction sites with a sense of immediacy and energy.

Leon Kossoff, "Arnold Circus, Saturday Afternoon," 2012, charcoal and pastel on paper, 
The charcoal drawings are expressive evocations of place. Vigorous black line defines the forms and suggests a dark and brooding atmosphere, while subtle marks of color invigorate the scenes. Roughly drawn and hectically composed, these works convey a certain spirit in London's streets, neighborhoods, and gathering places.

Leon Kossoff, "King's Cross Stormy Day no. 2," 2004, charcoal and pastel on paper
Leon Kossoff, "School Building Willesden," 1979, charcoal on paper
There is an energy in Leon Kossoff's drawings which bring movement to the cityscapes. The pattern of Kossoff's work has been to pursue, sometimes obsessively, a single subject over a period of years. On the mornings he did not have a sitter arriving in the studio, he would set off early to a chosen spot with his drawing board to work out of doors; then he would return to the studio to paint – a laborious process through which the final image would emerge only after many months of applying and then scraping away paint.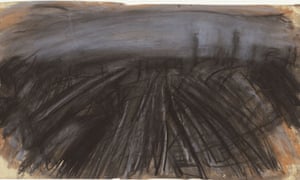 It seems that Kossoff has frequently been drawn to landscapes that suggest a state of transition: either because they are undergoing literal change, such as the St Paul's building site; or because they are, like tube stations or railway lines, the zone of humans on the move.
Kossoff's territory is, more frequently, the overlooked: the railway siding; the demolition site; the Victorian school building seen from across a busy road; the underground station. These views present themselves to him with a kind of inevitability.
"It is a question of the eye and the mind," he says. They are the kind of landscapes that many people would hesitate to regard as "scenic", but that carry their own rough loveliness. "Perhaps everything's beautiful," he says. "It's a question of how you experience things visually." He adds: "Something happens when you see Willesden Junction stretching out in front of you. What else can you do but draw it?"
He worked for years drawing and painting Kilburn tube station. Eventually the faces in the crowd turned unbidden into the faces of people he knew as he painted. He points out to me the face of his father, and that of his wife.  They are pictures, as he says simply, of "life going on".
Peter Coker takes a similar abstract/ energetic approach to still life. Using loose, often single, strokes to suggest contours and shadow.
This drawing depicts the interior of a butcher's shop. A large slab of meat hangs in the foreground towards the right-hand side, with two others just discernible behind it. In the background towards the left, the figure of the butcher is seen from behind as he leans over his shop bench. The chequered design of the tiles on the walls of the shop and the rail from which the meat hooks hang define the enclosed space of the shop. The drawing was begun lightly in pencil and then the main lines were gone over again with stronger, darker strokes to summarise the forms. At this stage the artist enlarged the side of meat at the top and bottom. The butcher's feet were drawn in sketchily and then rubbed out.  The amendments seem to introduce motion to an image which is largely of a static subject.  The lines are confident and fluid without being drawn into developing detail.
Similarly in this landscape (black and white chalk and gouache on white paper), Peter Coker depicts a study of dense and dark foliage.  Whilst being just a study rather than a final work I am struck by the looseness of his marks, their confidence and fluidity; creating depth, texture and shadow predominantly through single strokes.  In the foreground, loose, often single, strokes suggest uneven terrain or tall grass. For the foliage beyond, Coker used closely drawn lines, which create a jagged silhouette and suggest the thorniness of gorse.
Mercedes Matter, Tabletop Still Life, ca. 1936. Oil on canvas
Mercedes Matter (1913-2001) was part of the abstract expressionist movement.   Close friends included Jackson Pollock, Lee Krasner, Franz Kline, Philip Guston, Alexander Calder and Willem de Kooning.  Her first mentor, Hans Hofmann, cultivated tensions between sensuality and self-discipline, between drawing and colour.  In early works she abstracts flower arrangements into rectangular planes of colour,  but these soon give way to more propulsive, looping forms, shaped by competing relations of figure and ground.
Her works maintain an assertive vigour and there is a severity to her art; its fierce angularity suggests an appetite for abandon constrained by geometry. Although close friends with Pollock, and an admirer of his work, Matter resisted his method, remarking in an interview, "What I like least … is the liberation."
After 1960 Matter's work tends more towards density.  Still life is no longer a step on the way to abstraction; painting doesn't point beyond the objects, but hovers around their simple physical mass. Her high-keyed colors become more earthy and muted, and then disappear entirely in the large, powerful drawings, which appear through the 1980s and 90s and often include cows' skulls collected near her home in Connecticut. Matter excavates the projections and voids of the skulls, as though to impart their airy hollowness to the entire arrangement; united in an overall mesh of marks, the objects seem to levitate from the table.
Mercedes Matter, Still Life with Skulls, ca. 1978-98, Charcoal on canvas
I am struck by the "architectural effect" of this still life,  it's energy, fluidity and abstract style, and I am drawn to comparisons with Jeanette Barnes, Dennis Cressfield, Leon Kossoff and David Bomberg, all of whom I have mentioned above.
This almost takes me back to Paul Cezanne's Green Apples (1873) where the work is much more figurative, but also energetic, bold and almost abstract in its marks.
Paul Cézanne (1839–1906) was a French artist and Post-Impressionist painter whose work laid the foundations of the transition from the 19th-century conception of artistic endeavour to a new and radically different world of art in the 20th century. Cézanne can be said to form the bridge between late 19th-century Impressionism and the early 20th century's new line of artistic enquiry, Cubism. Both Matisse and Picasso are said to have remarked that Cézanne "is the father of us all."  Cézanne's often repetitive, exploratory brushstrokes are highly characteristic and clearly recognizable. He used planes of colour and small brushstrokes that build up to form complex fields. The paintings convey Cézanne's intense study of his subjects